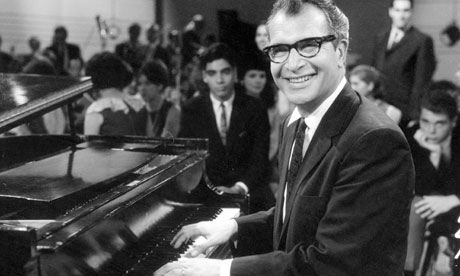 One year ago today, Dave Brubeck died at age 91. Among all the tributes to his life, many jazz stations across the country replayed some of his appearances on Marian McPartland's
Piano Jazz
. In one edition, from 1997, Brubeck tells a story about W.C. Handy.
Handy
, for those of you unfamiliar with him, was a blues composer and musician often referred to as "The Father of the Blues". Perhaps is most famous composition is "St. Louis Blues". Almost every blues or jazz musician worth his salt has recorded at least one version of this tune.
On one of his many tours, Brubeck was going to play a show in Memphis, so he wanted to play "St. Louis Blues" the way Handy wrote it. Brubeck got his hands on the old music and was surprised to discover that it was written as a tango. So that night, he played it as a tango. After listening to this interpretation, I can never not hear the tango elements of the song.
Here's the
link to the episode
. The whole episode is great. If you don't want to listen to it all, fast forward to 46:30 to hear Brubeck tell this story. Fast forward to 48:40 to hear him play "St. Louis Blues" as a tango.